B&G Contingent Attends California ChangeLawyers Reception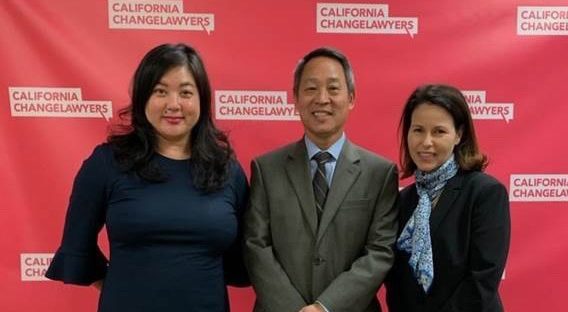 Imagining a different legal landscape that more resembles the diversity of 21st century America was the vision projected last month at a reception held at UC Hastings School of Law for California ChangeLawyers and attended by a trio of Boxer & Gerson attorneys. 
"One of the most inspiring events I have ever witnessed" was how Boxer & Gerson Partner Maria Grasso (right, above) described the evening, where she was joined by fellow Partner Gary Lee, Associate Attorney Amy Shen, and Lee's wife Lisa Oyama (not pictured). 
California ChangeLawyers was founded in 1989 by the State Bar of California as the California Bar Foundation. In 2015, it became an independent nonprofit organization with its own charter and board, and in 2018, it changed its name to California ChangeLawyers to better reflect its longtime mission: building a better justice system for all Californians. 
That has meant creating a more inclusive system that better reflects the diversity of a state with large minority populations that continue to be severely underrepresented in the legal profession. That fact will be subject to substantial change if the work of California ChangeLawyers continues the trajectory on display at the group's reception, where multiple young attorneys from a wide variety of backgrounds described their hopes for the future. 
California ChangeLawyers offers law school scholarships, grants, graduate fellowships, networking and mentoring opportunities for young or aspiring attorney activists committed to "giving voice to the voiceless," in the words of more than one member. It is currently helping fund 61 students in 20 law schools across California, while also providing leadership development training to 200 students and impacting some 2 million undocumented Californians through its statewide network of participating fellows.
The group's website states, "For the first time in a long time, the public has realized what the legal community has always known: lawyers, working from the inside out, can break down barriers in our justice system."
Boxer & Gerson is pleased to offer its whole-hearted support to the continual breaking down of those barriers to full inclusion and justice as expressed so eloquently at the ChangeLawyers event.
Below, a snippet from the group's website, see more at changelawyers.org.
***