Sager Addresses Prelaw Boot Campers From Diversity Legal Pipeline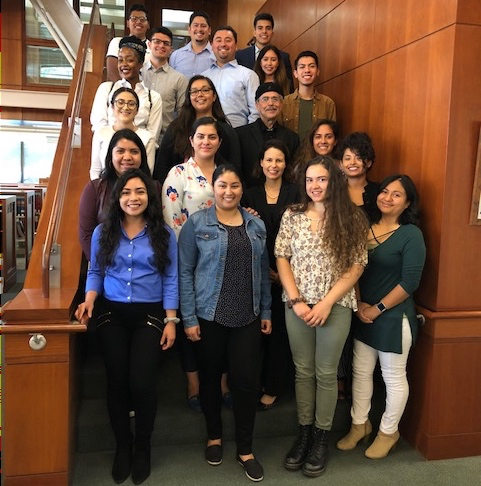 Boxer & Gerson Partner Maria Grasso took part in a two-person attorney panel last week with Jose Padilla, the executive director of California Rural Legal Assistance, as the veteran lawyers addressed a prelaw boot camp organized by Centro Legal de la Raza's Diversity Legal Pipeline (DLP). The program was held at the Alameda County Law Library in Oakland.
(In the photo above, Sager is in the second row third from left, Padilla directly above her, and just to the left another row up, Centro Legal Executive Director Raymundo Jacquez.) 
Centro Legal is an Oakland-based nonprofit dedicated to serving the justice needs of low-income and immigrant communities in a variety of ways. Its Diversity Legal Pipeline (DLP) is an intensive week-long prelaw boot camp for college undergraduate students, designed to help them understand the law school application process and give them a taste of law school and eventual service as a lawyer.
The DLP also provides ongoing prelaw guidance to student participants. It is now in its fourth year. 
Some 15 DLP participants heard Sager and Padilla discuss their personal career paths that took them to the legal profession, along with practical advice on how to set and achieve their goals. Of paramount importance, she related to them, is "the tenacity it takes to become a lawyer, and that no matter what, giving up is not an option."
Added Sager: "I concluded by discussing my life today as a lawyer with Boxer & Gerson. The students were sweet, respectful, and asked very good questions."
The DLP grew out of Centro Legal's Youth Law Academy (YLA),  a three-year program for Oakland high school students that encourages them to consider legal careers while supporting their college ambitions with practical instruction, observation, guest speakers and summer internships with participating  law firms. This summer marks the eighth consecutive year that Sager has supervised a summer intern from YLA at Boxer & Gerson.