KNIGHTSCOPE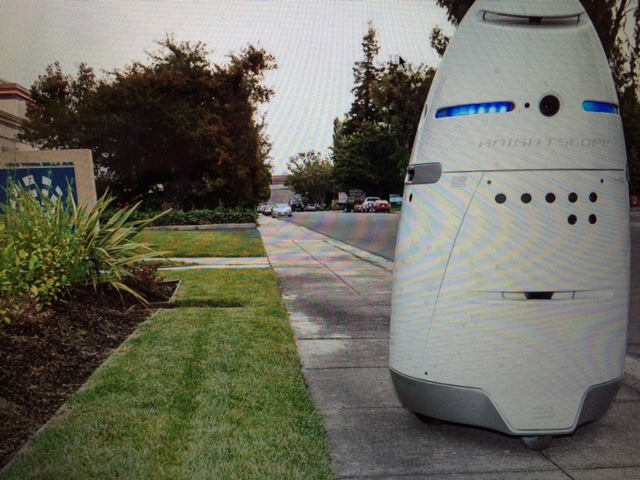 Movie fans will remember R2D2 as a very cute robot.
A Mountain View, California start up, Knightscope, has developed an even cuter droid which promises big things.
To predict and prevent crime.
I attended an event in Silicon Valley that featured a presentation by Knightscope CEO William Santana Li. Formerly an executive with Ford Motor, Li is a persuasive advocate for the robot which is designed for security and surveillance.
The audience was filled with people who are interested in (and in some cases, highly enriched by) "disruptions". By that I mean sea changes from the "old economy" to the "new economy"
Knightscope is currently aiming at outdoor security guard applications, though the technology would be useful inside many large warehouses or office buildings.
The robots are highly mobile and can transmit real time sound and visual data as well as analytics on the data.The bots can be equipped with smoke and radiation detectors and other surveillance technology.
The bots are designed to look "friendly" and non confrontational. One of the bots seemed to be humming some chill out music.
But if attacked, the robots are capable of 3 levels of self-defense.
Knightscope is initially aiming at the private security market in places such as large malls, corporate campuses, sporting events, large parking lots and structures and the like.
The idea is that the presence of the bots will deter crime as well as collect license plate data and facial recognition data that will help solve crime if it happens.
There is a great deal of interest among venture people and corporate customers.
As a workers' comp blogger what I found interesting was the economics of Knightscope's pitch. Users will pay between $6 to $7 per hour to rent the bots, which is far below the cost of most security guards in the target settings.
According to the U.S. Department of Labor Statistics, the mean hourly wage for security guards is $13.24. In some instances wages range up to around $20 an hour. There are over million of these jobs in the economy.
Thus, Knightscope's bots will cost users about half of what they are paying for human guards in an industry that historically has high personnel turnover.
And that's not even considering savings on workers' comp costs or potential costs saved if crimes rates are lowered.
This technology is emblematic of the sort of transitions that we may see as technology advances in robotics work themselves more and more into occupations that might have seemed immune from disruption.
Knightscope does not aim to replace all human security apparatus. When questioned, Li noted that though there might be fewer security personnel, the remaining personnel would probably be better trained and more capable when augmented by the capability of the bots.
These arguments always bring us back to the question of whether technology will create jobs or destroy jobs, and how the disruption will affect people in different educational and socioeconomic strata.
The answers to that aren't always clear.
But what I do know is that these sort of bots, if widespread, will lower workers comp costs.
In a bot world there'll be room for insurance, but there will be no UR, no IMR, no TD, no PD.
To read more on Knightscope, see their website:
Stay tuned.
Julius Young